Modular Implement Receiver System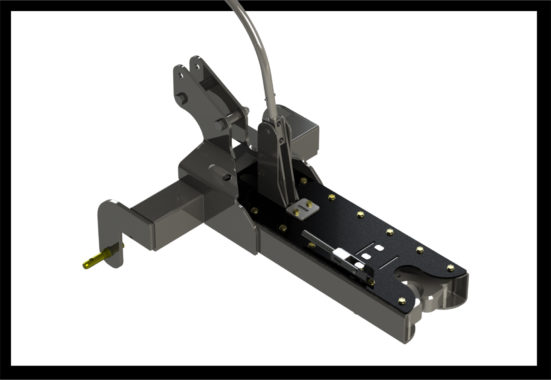 Details
New
Features & Specs
Files
Gallery
Simplement Model 321 is our patent pending modular implement system. It is designed to help eliminate the hassles that come with the attachment and detachment of implements. This current model utilizes a standard, category one, three-point hitch hookup to a single point connection. This makes the changing of cumbersome implements more efficient and less of a struggle.
Simplement Model 321 can also accommodate most PTO driven implements and although it will require you to get off the tractor to hook up the shaft, at least you won't need to wrestle with lining up those regular 3 point connections. Simplement also enhances efficiency for you by not having to constantly adjust lower link arm turnbuckles every time you need to change an implement.
Most other OEM implements can be made adaptable to use with Simplement receivers with some minor conversions and modifications. One stand-out feature is that it also gives you the ability to rotate and angle a box scraper up to a width of 60" or less. This offers much more versatility to this popular tool.
Keep checking back for new accessories and updates on this product!

Simplement Model 321 Specifications:
Pricing:
List Price (CAD)
$2,250.00*
Model
321
Part Number
70002
Connection Method
3 Point Cat. 1
Unit Weight (Approx.)
200 lbs (approx.)
Max Tongue Weight
2500lbs
Max Towing Capacity
8000lbs
Tractor HP
Up to 50hp
Max Implement Width Allowing Full Rotation
61 Inches
Index Lock Pin Engagement
Automatic & Manual Release
Jaw Control
Manual Handle with Safety Catch and Release Lever
Jaw Adjustment
Self Adjusting
*Do not exceed your tractors OEM 3point hitch capacity rating*
*All prices in Canadian dollars. For sales inquiries outside Canada, please contact sales at [email protected] for pricing and availability.
This slideshow requires JavaScript.